NEWS AND UPDATES

CHRISTMAS IS COMING !
Online classes have been back for a while now.
As a gift from me to you and a great way to try a class, why not book o to FREE online Pilates on 29th December and FREE online yoga on 4th January.
Bookable now.
Pilates and yoga work hand in hand. If you've only tried one, why not give the other a go? Discover just how much of an impact both practices can have on your body (as well as your mind)
CLASSES AT THE HALL 
Yoga at 9.30am on Tuesday.
Pilates at 6.45 pm on Thursday.
Saturday yoga at 9.15 am, 
DUE TO HOLIDAYS, CLASSES MAY BE REDUCED AT CERTAIN TIMES. 
Always refer to the schedule to check.
Mats and props are provided but you may wish to bring your own.
If you do, for yoga, you will need 2 yoga bricks, a strap, and a yoga mat, a Pilates one is too thick.
For Pilates, I have thick mats and props are provided. You can see what I use and buy your own if you so wish.  
 Classes are suitable for all levels- including beginners, pregnant or postnatal. Orthopaedic conditions, but please let me know in advance so that I can give modifications.
Head to the 
schedule
 to book 
Go to the sessions page for pricing information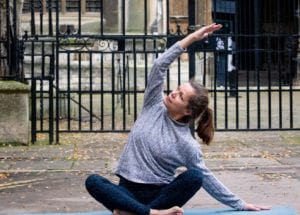 Mel's Moves is at the village hall 
Highfields Caldecote 
on Tuesday mornings, Thursday evenings and Saturday mornings
You'll also find me at 
Camyoga, Cambridge
Yoga at the Barn

, Manor Farm, Bourn,
 in-person and online. 
see opposite for website links
TO SUMMARISE 

For Caldecote Village hall  and online
you can book on this website in sessions. 
For other venues, please go to their respective websites
  ♥
 

VILLAGE HALL CLASSES
Tuesday at 9.30 am -Yoga
Thursday at  6.45 pm- Pilates
Saturday 9.15 am. Yoga or Pilates

CAMYOGA, Central Studio just off Hills Road. Visit the website for details.
Pilates at  Camyoga  online Sunday at 4pm. 
www.camyoga.co.uk
 

YOGA AT THE BARN- Manor Farm, Bourn
Pilates  – Thursday 9.15 am
Any physical or mental issues? please ask for advice.
 With any health concerns, it is advisable not to undertake any exercise program without the consent of your GP.
Prices are on the booking page:-
  Cancellation policy:
For village hall classes I kindly ask that you give 24 hours notice. Refunds or transfers cannot be made after that time. 
Village hall passes are valid for 4 months.
 Once expired, unused tickets are not refundable unless I have cancelled the class.